monday night
(don't worry, it was after
family home evening?)
fiance, friend jeff, & your 6th favorite blogger
headed over to the other side of the tracks
(ie UVU's mckay events center)
for a show featuring THESE FRIENDS:
eeeeee! ahhhhh! sooooo good!
arcade fire was just. amazing.
not as familiar with them?
their music is......hmmm........in a word?
i feel like any song off any
one of their three cds would
work as the group-defining
single for any other band.
...does that make sense?
you've got their first album THIS:
(called "funeral")
which features goodies like
this
&
this
...but really, every song off this one is good.
REALLY.
& then you have their second cd THIS:
(called "neon bible")
featuring two LIFE-CHANGING SONGS!
if you were going to give a few seconds listen
to any of the songs i link to this post,
PLEASE choose these two.
first
THIS ONE
. you
feel like you see right into his soul & then
you feel like you become good, good friends with it.
and then
THIS ONE
. heart, heartbreakingly beautiful.
and yet beautiful is not the right word.
heartbreakingly...shattering?
and then finally, their latest cd THIS:
(titled "the suburbs")
if things like this impress you,
then yes,
the suburbs DID win album of the year at
your local 2011 grammy awards.
album of the year
!!
& it done won album of the year
for a purpose: every song does
wonderful, wonderful things
&
it's near impossible to choose a few.
but i suppose
THIS
or
THIS
or
THIS
.
or
THIS
. or just the whole cd.
& then there are some great facts about the band.
1.
wikipedia says the lead singer (win butler) & his brother who
is also in the band had a "conservative mormon upbringing." what the.
1.5.
& win butler is six foot four, yall.
2
. there's a bunch of people in the band. 7 core,
add at least four more for the tours.
2.5. that all rhymed.
3.
win butler (quiz question: who is he again???) is
married to regine chassagne. who is also in arcade fire.
& when two people are married & in a successful
band together...well gosh, it's great.
feel free to call them mr. & mrs. arcade fire.
i kinda do sometimes.
& finally, here are just some other
great pictures of the band.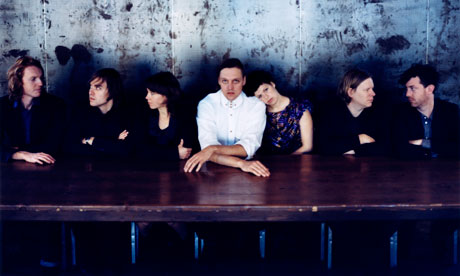 what fun.
a great show.
fiance, friend
&
i were
SO GLAD
we attended.